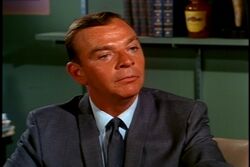 Woodrow Parfrey (October 5, 1922 — July 29, 1984) was an American-born character actor. He was born in New York City. Parfrey was orphaned by his teens and grew up in abject poverty during the Depression. He served in the United States Army during World War II, Parfrey faught in the Battle of the Bulge, where he was wounded and captured, spending the rest of the war in a prisoner of war camp. It was these wartime experiences that helped him to set up many of his tough, eccentric characters that he would later play. Among the parts he played were two different roles on the American sitcom, Hogan's Heroes; Doctor Schneider in the episode Kommandant of the Year and Hugo Hindmann in the episode Casanova Klink.
After the war, he began working on Broadway, acting on stage during the late 1940s and most of the 1950s. He started to appear on television in the early fifties, shortly followed by film. Parfrey soon became one of the most interesting character actors to appear on American televison and film in the 1960s, bringing a quirky charisma to every character that he played, from shopkeepers to space-age simians. His noted turn as the unbalanced informer in Broadway's Advise and Consent (1961) set the standard for his offbeat, conspiratorial persona in dozens of TV and movie appearances into the 1980s.
Parfrey has played many focal TV guest star roles, mainly in the late sixties, and a few big A-movie parts, most notably as one of the wretched prisoners in Papillon (1973). His association with that film's director, Franklin Schaffner, also included a bit part as one of the three "See No Evil" orangutan judges in Planet of the Apes (1968). (He would don the prosthetics again a few years later for the pilot of the spinoff TV series.)
In addition, Parfrey also turned up in the unofficial repretory companies of both Clint Eastwood and Don Siegel.
Among his credits were appearances in Combat!, The Outlaw Josey Wales, The Name of the Game, Police Story, Get Smart, I Dream of Jeannie, Lost in Space, Gunsmoke, Have Gun – Will Travel, Studio One, The King's Pirate, Planet of the Apes, The Sunshine Patriot, Eight is Enough, Room 222, When Every Day Was the Fourth of July, Police Woman, Baretta, The Sting II and Remington Steele.
His determination to bring that edgy "something extra" to his profession lives on in his son, the "underground" publisher Adam Parfrey.
He died in Los Angeles, California from a heart attack.
Filmography
Edit
Notable TV Guest Appearances
Edit
External links
Edit
Ad blocker interference detected!
Wikia is a free-to-use site that makes money from advertising. We have a modified experience for viewers using ad blockers

Wikia is not accessible if you've made further modifications. Remove the custom ad blocker rule(s) and the page will load as expected.