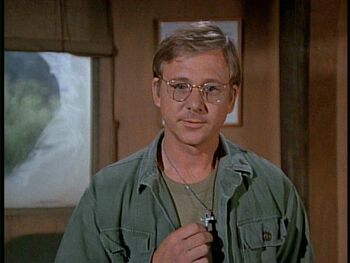 William Christopher (October 20, 1932 (Evanston, Illinois) – December 31, 2016 (Pasadena, California)) was an American actor most famously known for playing Father Mulcahy on the American television series M*A*S*H and AfterMASH as well as playing Private Lester Hummel on Gomer Pyle, U.S.M.C.. He had also appeared in a few episodes of the 1960s American sitcom, Hogan's Heroes.
After attending New Trier High School in Winnetka, Illinois, he went to Wesleyan University in Middletown, Connecticut in 1954. He majored in drama and was also active in fencing, soccer, singing with the glee club and performing in various dramatic performances. He met his future wife, Barbara O'Conner, on a blind date. They married in 1957 and have two sons, John and Ned. Christopher is also suppose to be a direct descendent of Paul Revere.
After appearing in a variety of regional productions, he landed roles in a number of off-Broadway productions, most notably The Hostage at One Sheridan Square. His Broadway debut came in Beyond the Fringe, a British revue.
Christopher left the New York stage for Hollywood television production, where he was seen on The Andy Griffith Show, , The Patty Duke Show and The Virginian. He then had recurring roles on Gomer Pyle, U.S.M.C., That Girl and Hogan's Heroes. Since AfterMASH, Christopher has appeared in several series, including Murder, She Wrote and Mad About You.
In featured films, Christopher performed in The Fortune Cookie, The Private Navy of Sgt. O'Farrell, The Shakiest Gun of the West, With Six You Get Eggroll and Hearts of the West. He also won parts in such telefilms as The Perils of Pauline and For the Love of It.
Christopher devoted much of his spare time to the National Autistic Society because his son Ned is autistic. He has done several public service announcements to bring attention to this serious problem. In 1985, he and his wife wrote Mixed Blessings, a book about their experiences raising Ned.
He also remained active in the theater, including a tour of the U.S. in the mid-1990s with Jamie Farr doing Neil Simon's The Odd Couple on stage.
Christopher died at his home in Pasadena, California on December 31, 2016. According to his son, John Christopher, the 84-year old actor died as the result of small-cell carcinoma.
He had been diagnosed with cancer about 18 months earlier, according to his New York-based agent, Robert Malcolm.
Filmography
Edit
Notable TV Guest Appearances
Edit
External links
Edit
Ad blocker interference detected!
Wikia is a free-to-use site that makes money from advertising. We have a modified experience for viewers using ad blockers

Wikia is not accessible if you've made further modifications. Remove the custom ad blocker rule(s) and the page will load as expected.