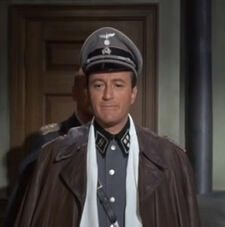 William Allyn (January 22, 1927 — January 3, 1999) was an American character actor. He began acting on the stage in New York City, before moving to Hollywood. As a stage actor, he acted with such notables as Marlon Brando and Julie Harris, while also developing an interest in working behind the scenes. After moving to Hollywood, he would appear in several television shows, which included him appearing in an episode of the 1960s sitcom Hogan's Heroes.
Besides Hogan's Heroes, he appeared as a guest star in such television shows as Navy Log, Mike Hammer, M Squad, Ben Casey, The Virginian and Perry Mason.
Allyn also did some directing, producing several episodes of the television series, Payton Place. Then in 1971, he moved to television movies when he produced The Last Child. In 1981 he produced Rich and Famous, his first theatrical film.
On January 3, 1999, Allyn died from complications caused by heart disease.
Filmography
Edit
Notable TV Guest Appearances
Edit
Producer
Edit
Miscellaneous
Edit
External Links
Edit
Ad blocker interference detected!
Wikia is a free-to-use site that makes money from advertising. We have a modified experience for viewers using ad blockers

Wikia is not accessible if you've made further modifications. Remove the custom ad blocker rule(s) and the page will load as expected.