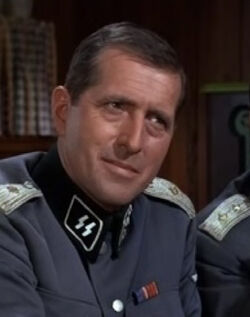 Willard Sage (August 13, 1922 (Canada) — March 17, 1974 (Sherman Oaks, California)) was a Canadian-born character actor who appeared in dozen of television shows and films from the mid-1950s up to his early death in 1974. He has appeared in such films as Dragnet, The Brass Legend, Timbuktu and The Touch of Mink and such television shows as Maverick, Perry Mason, Peter Gunn, The Great Adventure, The Outer Limits, Daniel Boone, Family Affair, Star Trek, Emergency!, The Rookies and Banacek. He also appeared in several episodes of the 1960s sitcom, Hogan's Heroes.
Filmography
Edit
Notable TV Guest Appearances
Edit
External links
Edit
Ad blocker interference detected!
Wikia is a free-to-use site that makes money from advertising. We have a modified experience for viewers using ad blockers

Wikia is not accessible if you've made further modifications. Remove the custom ad blocker rule(s) and the page will load as expected.