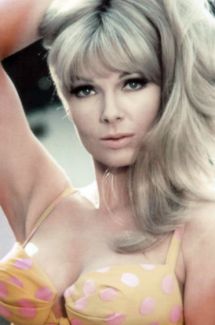 Thordis Brandt is a German actress who was born in West Germany of German and Norwegian parents who later moved to Canada while she was a young girl. After graduating from school with a degree in nursing, she moved to Santa Monica, California. As she pursued a career as an actress and a dancer, she would also practice nursing as a private practice. One of her private jobs was acting as a nurse for actress Patricia Neal. Ms. Neal would recommend Brandt to other actors and actresses, leading to her being known as the "actor's nurse".
She appeared in several films and television shows in the 1960s, including an appearance as a guest star in the television sitcom, Hogan's Heroes. Her film appearances would include, The Split, Funny Girl, Spinout, In Like Flint and Live a Little, Love a Little, while appearing in such television shows as Hogan's Heroes, Run for Your Life, The Green Hornet, The Good Guys, I Spy and The Girl from U.N.C.L.E..
After retiring from acting, Brandt would continue working in Beverly Hills, California as a nurse.
Filmography
Edit
Notable TV Guest Appearances
Edit
External links
Edit
Ad blocker interference detected!
Wikia is a free-to-use site that makes money from advertising. We have a modified experience for viewers using ad blockers

Wikia is not accessible if you've made further modifications. Remove the custom ad blocker rule(s) and the page will load as expected.