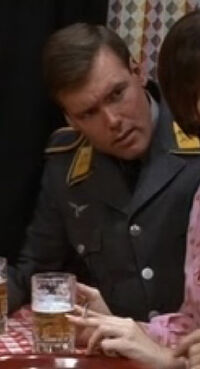 Roger Helfond (February 1, 1935 — November 17, 1984) was an American actor who was active in the 1960s. Born originally in Stanislaus County, California, he appeared on two television shows and a featured film, including an appearance as a guest star on a episode of the 1960s sitcom, Hogan's Heroes. In 1984, he died in Los Angeles, California.
Filmography
Edit
Notable Guest Star Appearances
Edit
The Green Hornet playing "Actor" in episode: "The Frog Is a Deadly Weapon" (episode # 1.5) 7 October 1966
Hogan's Heroes playing "Soldier" in episode: "Hogan's Hofbrau" (episode # 1.13) 10 December 1965
External links
Edit
Ad blocker interference detected!
Wikia is a free-to-use site that makes money from advertising. We have a modified experience for viewers using ad blockers

Wikia is not accessible if you've made further modifications. Remove the custom ad blocker rule(s) and the page will load as expected.