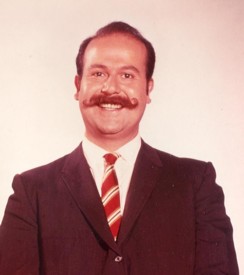 Roger Charles Carmel (September 27, 1932 — November 11, 1986) born in Brooklyn, New York, was an American character actor.
Biography
Edit
Carmel, best known for his role as the flamboyant and hapless criminal Harry Mudd on the original Star Trek, was born in Brooklyn, New York. He was named after his grandfather Robert Charles, who carved horses for the carousel in New York's Central Park. He first started out as a stage actor before moving to Hollywood, where he soon found steady work. Besides his two appearances as Harry Mudd on Star Trek, Carmel's other famous guest starring roles was as the accountant Doug Wesley on The Dick Van Dyke Show and as Colonel Gumm on Batman. He also appeared on such television shows as I Spy, Hogan's Heroes, The Man from U.N.C.L.E., The Munsters, Hawaii Five-O and other shows.
In 1967, Carmel starred as Roger Bull, Kaye Ballard's husband in the sitcom The Mothers-in-Law, but he would be replaced the following year by Richard Deacon. The official reason given was because of a dispute with producer Desi Arnaz over salary, since Desi told the entire cast that while NBC has renewed the show, they were not offering enough money, because of the series' poor ratings, so that the cast would not be given their promised salary increases. Carmel said that he would leave the show if he wasn't given the contract promised raise since the show has been renewed, and when Desi refused, he was replaced. It has been rumored that the real reason that he was fired was because his drug use interfered with the show's production, although there is presently no proof to the rumor's validity.
His acting career would suffer after his firing from the show. Until the 1980s, Carmel would mainly do guest appearances on television shows and in several B movie bombs. After appearing as a cast regular in the short-lived show, Fitz and Bones, he would do voice overs for animated series, as well as appear in commercials, including several where he played Senor Naugles, a Mexican Colonel Sanders-clone for the West Coast Naugles fast food chain. The commercials would be his last major success before his death.
Carmel would also do the voice of Smokey the Bear in several fire safety advertisements in the 1970s and 1980s, as well as Decepticon lieutenant Cyclonus in the popular Transformers animated series.
He died on November 11, 1986 in Hollywood from a heart failure, although it was rumored for a time that he died from a drug overdose.
Filmography
Edit
Notable TV Guest Appearances
Edit
External Links
Edit
Ad blocker interference detected!
Wikia is a free-to-use site that makes money from advertising. We have a modified experience for viewers using ad blockers

Wikia is not accessible if you've made further modifications. Remove the custom ad blocker rule(s) and the page will load as expected.