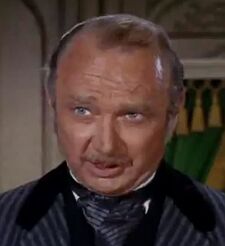 Pitt Herbert (September 25, 1914 - June 23, 1989 (Edmonds, Washington)) was an American character actor who would appear in several films and television series. Pitt's film credits would include, Return to Peyton Place, Take Her, She's Mine, The Trouble with Girls, The Great White Hope, Superdad, Victory at Entebbe and Harper Valley P.T.A.. His television credits includes Schlitz Playhouse of Stars, Sergeant Preston of the Yukon, Gunsmoke, Rawhide, The Untouchables, Surfside 6, The Twilight Zone, The Dick Van Dyke Show, My Three Sons, Lost in Space, Family Affair, Hawaii Five-O, That Girl, Marcus Welby, M.D., Quincy, M.E., Little House on the Prairie and The Fall Guy, including an episode of the 1960s sitcom, Hogan's Heroes.
Pitt died in Edmonds, Washington on June 23, 1989.
Filmography
Edit
Most Notable TV Guest Appearances
Edit
External links
Edit
Ad blocker interference detected!
Wikia is a free-to-use site that makes money from advertising. We have a modified experience for viewers using ad blockers

Wikia is not accessible if you've made further modifications. Remove the custom ad blocker rule(s) and the page will load as expected.