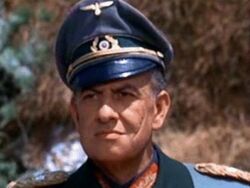 Oscar Beregi, Jr. (May 12, 1918 (Hungary) – November 1, 1976 (Los Angeles, California)) was a Hungarian-born American character actor. Born in Hungary, he moved to the United States with his father, Oscar Beregi, Sr., another actor. He made his on-screen debut in 1952 in the film Anything Can Happen. He then appeared in several films and television shows. His film credits would include Judgment at Nuremberg, The Incredible Mr. Limpet, 36 Hours, Everything You Always Wanted to Know About Sex* (*But Were Afraid to Ask) and Young Frankenstein. Among his television credits would be Bat Masterson, The Detectives Starring Robert Taylor, The Twilight Zone, Death Valley Days, Gomer Pyle, U.S.M.C., Green Acres, The Chicago Teddy Bears, Mannix, and Kojak, as well as two episodes of the 1960s sitcom, Hogan's Heroes.
On November 1, 1976, Oscar died from a heart attack in Los Angeles, California.
Filmography
Edit
Notable TV Guest Appearances
Edit
External links
Edit
Ad blocker interference detected!
Wikia is a free-to-use site that makes money from advertising. We have a modified experience for viewers using ad blockers

Wikia is not accessible if you've made further modifications. Remove the custom ad blocker rule(s) and the page will load as expected.