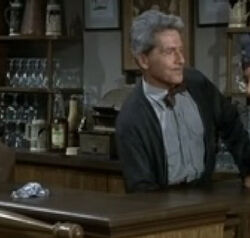 Norbert Schiller (November 24, 1899 (Vienna, Austria-Hungary) – January 8, 1988 (Santa Barbara, California) was an Austrian-born character actor who appeared in several American films and television shows from the late 1930s to the 1970s, including several episodes of the 1960s sitcom, Hogan's Heroes. Schiller was born in Vienna during the last days of the Austro-Hungarian empire. He emigrated to the United States sometime in the 1930s. In 1939, he appeared in his first Hollywood film, The Hunchback of Notre Dame. Other films that Schiller would appear in would include, The Emperor Waltz, The Thing from Another World, The Girl in the Kremlin, Witness for the Prosecution, The Young Lions, Judgment at Nuremberg, 36 Hours, Torn Curtain, Wake Me When The War Is Over and The Man in the Glass Booth. He has appeared in such television series, besides Hogan's Heroes, as Fireside Theater, Space Patrol, Gunsmoke, The Millionaire, Alcoa Presents: One Step Beyond, The Smothers Brothers Show, Twelve O'Clock High, The F.B.I., The Monkees, The Odd Couple, Kojak and Dynasty.
Schiller died on January 8, 1988 in Santa Barbara, California.
Filmography
Edit
Notable TV Guest Appearances
Edit
External links
Edit
Ad blocker interference detected!
Wikia is a free-to-use site that makes money from advertising. We have a modified experience for viewers using ad blockers

Wikia is not accessible if you've made further modifications. Remove the custom ad blocker rule(s) and the page will load as expected.