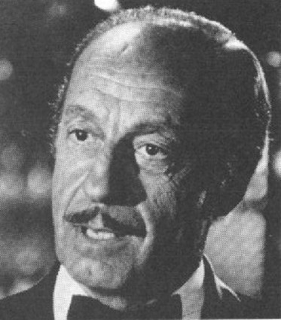 Maurice Marsac (March 23, 1915 (La Croix, France) — May 6, 2007 (Santa Rosa, California)) was a French character actor who was active from the 1940s to the 1980s. Marsac is best known for playing French waiters, maître d's and concierges.
In the 1930s, he worked in the French Embassy in London. While there, Maurice was also a Captain in the French Army reserves. He served in the French Resistance for a time before moving to the United States, working first as a French wine salesman before he started working as a film actor, beginning with the 1943 war film Paris After Dark as an uncreditied French soldier. Since then, he has appeared in dozen of films and television shows, including such films as To Have and Have Not, Tyrant of the Sea, The Caddy, How to Marry a Millionaire, Tarzan and the Trappers, Gigi, King of Kings, Clarence, the Cross-Eyed Lion, Double Trouble, The Poseidon Adventure, Herbie Rides Again, The Legendary Curse of the Hope Diamond, The Jerk, The Big Red One and Dragnet and such television shows as The Public Defender, General Electric Theater, The Red Skelton Show, I Love Lucy, Jane Wyman Presents the Fireside Theatre, Peter Gunn, Green Acres, Combat!, To Rome with Love, Family Affair, Cannon, Barnaby Jones, Wonder Woman, Soap, Hart to Hart, Night Court and L.A. Law. He also appeared in a couple of episodes of the 1960s sitcom, Hogan's Heroes.
Maurice was also a nationally ranked croquet player.
He was married to Melaine Marsac, who died three weeks before he did. On May 6, 2007, Maurice died from cardiac arrest in Santa Rosa, California.
Filmography
Edit
Notable TV Guest Appearances
Edit
External links
Edit
Ad blocker interference detected!
Wikia is a free-to-use site that makes money from advertising. We have a modified experience for viewers using ad blockers

Wikia is not accessible if you've made further modifications. Remove the custom ad blocker rule(s) and the page will load as expected.