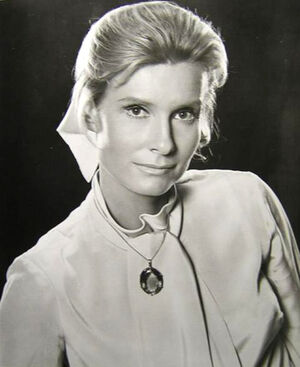 Marian Moses born Marian McCargo ((March 18, 1932 (Pittsburgh, Pennsylvania) - April 7, 2004 (Santa Monica, California)) was an American actress who was originally a tennis champ. She would appear in several films and television shows, including making a guest appearance in one episode of the 1960s sitcom, Hogan's Heroes.
Born in Pittsburgh, Pennsylvania, McCargo would attend Boston's West Hill College. In 1949 she achieved the Number 3 ranking in girls' tennis for the Middle States region. But, reports that she won the Wightman Cup and defeated "Mo" Connolly at Forest Hills in 1950 appear to be incorrect. In 1950, Connelly lost to second-seeded Doris Hart at Forest Hills. A review of Wightman Cup rosters shows no Marian McCargo or Marian Moses.
The following year she would marry Richard Cantrell Moses, who later became an advertising executive in Los Angeles. They would have four sons, Graham Moses, actor William R. Moses, director Harry Moses, and actor Rick Moses. Not too long her marriage, Marian would retire from tennis and would take up acting.
She would appear on television as a supporting actress in such popular television shows as Perry Mason, Hawaii Five-O, Hogan's Heroes, Voyage to the Bottom of the Sea, Mannix and The Man from U.N.C.L.E..
She would make her film debut in the 1966 crime comedy Dead Heat on a Merry-Go-Round. She would later appear in such films as Buona Sera, Mrs. Campbell, The Undefeated and Doctors' Wives. She would later become known for her role as Harriet Roberts on the nighttime soap opera Falcon Crest. In her earlier appearances she would be credited as Marian Moses.
She divorced Moses in 1963. In 1970, she married California Congressman Alphonzo E. Bell, Jr., a widower with three sons of his own. McCargo retired from acting to become a political wife. Using the married name Marian McCargo Bell, she was politically active during his eight-term congressional career and campaigned for her husband, including during his unsuccessful bid for the U.S. Senate in 1976.
She died of pancreatic cancer in 2004 in Santa Monica, California.
Filmography
Edit
Most Notable TV Guest Appearances
Edit
External Links
Edit
Ad blocker interference detected!
Wikia is a free-to-use site that makes money from advertising. We have a modified experience for viewers using ad blockers

Wikia is not accessible if you've made further modifications. Remove the custom ad blocker rule(s) and the page will load as expected.