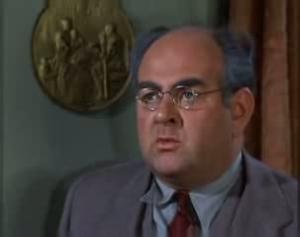 Larry Mann (18 December 1922 - 6 January 2014) was a Canadian actor and broadcaster who began to work in the United States as a voice artist and character actor in the mid-1950s. In addition to occasional movie work, he became a prolific guest actor on prime-time television shows.
He appeared in Hogan's Heroes as Dr. Vanetti in The Assassin (1966), SS General Brenner in The Reluctant Target (1967) and Illiych Igor Zagoskin in The Witness (1969). He also appeared in a satirical Cold War film, "The Wicked Dreams of Paula Schultz" (1967), that featured several of the stars from Hogan's Heroes, namely Bob Crane, Werner Klemperer, John Banner and recurring actor Leon Askin.
In later years he continued to voice cartoon characters. He was also seen on television. Many Canadians remember his commercial work (The Big Boss in a series of Bell Canada advertisements which featured his catchphrase "We're not sure"). He retired in 1991.
"I see nothing! Nothing!"




This article is a stub and is in need of expansion.

You can help the Hogan's Heroes Wiki by contributing to the article!
Ad blocker interference detected!
Wikia is a free-to-use site that makes money from advertising. We have a modified experience for viewers using ad blockers

Wikia is not accessible if you've made further modifications. Remove the custom ad blocker rule(s) and the page will load as expected.