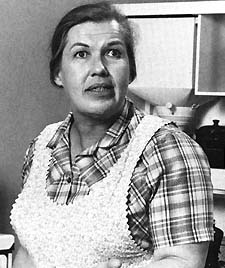 Kathleen Freeman (February 17, 1919 (Chicago, Illinois) – August 23, 2001 (New York)) was an American character actress in film, television and stage in a career that spanned over fifty years. Most of her career was spent playing an array of tart maids, secretaries, teachers, busybodies, nurses and battle-axe neighbors, almost always to comic effect. One of her most recognized role was playing the sister of General Albert Burkhalter, Gertrude Linkmeyer, who was constantly trying to marry Colonel Wilhelm Klink in the sitcom Hogan's Heroes.
Biography
Edit
Born in Chicago, Illinois, Freeman began her career as a child performer, dancing in her parents' vaudeville act. After growing up on the road, she went to college at UCLA, studying in music, and planning to become a concert pianist, before starting to act full time, first starting on stage for several local theatre groups, before going to Hollywood, appearing first in the film Annie Was a Wonder in 1948. Her first notable film role was as Jean Hagen's articulate diction coach, Phoebe Dinsmore, in the 1952 muscial, Singin' in the Rain.
Starting with the 1955 film, Artists and Models, she became a favorite foil for comedian Jerry Lewis, playing opposite him in 10 featured films. These include most of Jerry's more famously known comedies, including, The Disorderly Orderly as Nurse Higgins, The Errand Boy as the studio boss' wife, and especially The Nutty Professor as Millie Lemon. Over 30 years later, Freeman who have a small cameo in Nutty Professor II: The Klumps, the sequel of the Eddie Murphy remake of the original film.
Other film roles included appearances in the horror film The Fly (1958), and the Western spoofs Support Your Local Sheriff! (1969) and Support Your Local Gunfighter (1971). She also appeared in a number of comedies in the 1980s and 1990s. These included her role as Sister Mary Stigmata in John Landis' The Blue Brothers and Blues Brothers 2000, cameos in Joe Dante's Innerspace and Gremlins 2 (where she played the tipsy cooking host Microwave Marge) and a Ma Barker type gangster mom in Naked Gun 33⅓: The Final Insult.
Freeman was also a familiar presence on television, from the 1950s until her death, with regular or recurring roles in such sitcoms as Topper (as Katie the maid), as Frau Gertrude Linkmeyer in the afformentioned Hogan's Heroes, The Beverly Hillibillies (in a story arc as Flo Shafer, wife of conman Phil Silvers), in the short-lived prehistoric sitcom It's About Time (as Mrs. Boss), and as the voice of Peg Bundy's unseen mom in Married... with Children. She auditioned for the part of Alice the Housekeeper on The Brady Bunch, a played which eventually went to Ann B. Davis. She also played guest roles on other shows from I Love Lucy to Home Improvement.
In later years, she also worked as a voice actress, playing Ma Crackshell on DuckTales, a Theban woman in Disney's Hercules, and fortune teller Madame Xima in the video game The Curse of Monkey Island.
During her last two years she remained active, with a regular voice role on As Told by Ginger, a voice bit in Shrek, a guest appearance in Becker, and most notably, receiving a Tony Award nomination for her stage role as accompanist Jeannette Burmeister in the Broadway muscial version of the The Full Monty. Five days after her last Full Monty appearance, she died from lung cancer at the age of 82 on August 23, 2001.
Her ashes were later inurned at Hollywood Forever Cemetery in Hollywood, California.
Filmography
Edit
Notable TV Guest Appearances
Edit
Miscellaneous Crew
Edit
Soundtrack
Edit
External links
Edit
Ad blocker interference detected!
Wikia is a free-to-use site that makes money from advertising. We have a modified experience for viewers using ad blockers

Wikia is not accessible if you've made further modifications. Remove the custom ad blocker rule(s) and the page will load as expected.