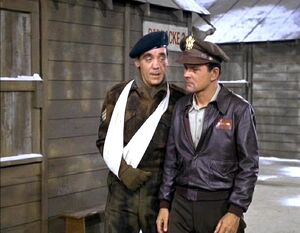 John Orchard (November 15, 1928 (Kennington, London) — November 3, 1995 (Beckham, Kent)) was a British-born character actor who most famous role was playing the character "Ugly" John in several early episodes of the American television series M*A*S*H. He has also appeared in such television shows as Combat!, Twelve O'Clock High, The Man from U.N.C.L.E., Hogan's Heroes, Jericho, The Time Tunnel, The Beverly Hillbillies, Mannix, Daniel Boone, Switch, Baretta and Remington Steele. John has also appeared in such movies as I Believe in You, King Rat, Ice Station Zebra, The Split, Bedknobs and Broomsticks, Capone, Gus, The Letter and Rustlers' Rhapsody.
He died on November 3, 1995 in Beckenham, Kent.
Filmography
Edit
Notable TV Guest Appearances
Edit
External links
Edit
Ad blocker interference detected!
Wikia is a free-to-use site that makes money from advertising. We have a modified experience for viewers using ad blockers

Wikia is not accessible if you've made further modifications. Remove the custom ad blocker rule(s) and the page will load as expected.