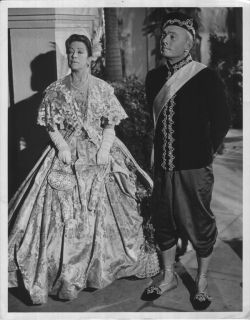 Diana Chesney (1927 (Mandalay, Burma) — May, 2004 (Woodland Hills, California)) was a British actress who appeared in both films and television series from the 1940s to the 1980s, including a few episodes of the sitcom, Hogan's Heroes.
Short Biography
Edit
Diana was born in Mandalay, Burma, where her father, a British Major was stationed. Her family returned to Britain before the war. She decided to become an actress at the age of 12, after seeing a Bette Davis film. Diana attended the Royal Academy of Dramatic Art in London, with her first stage appearance in a road company production of Show Boat. She would spend four years helping to entertain British and Americans troops during World War II in such places as Egypt, Iraq and Libya. An attack by a Luftwaffe bomber on a train that was carrying her and her fellow entertainers would make her reluctant to travel by train.
After the war, she would start working in British film, soon appearing in such films as The King and I and All at Sea, and television shows as Quatermass II, while continuing to work in the theatre. In 1961, Diana would move to the United States, where she would continue her acting career, appearing in such series as Bewitched, Hogan's Heroes, McMillan & Wife, Night Gallery, Cannon and Fantasy Island, and in such films as Swashbuckler, Rescue from Gilligan's Island and The Great Mouse Detective, as well as starring in the short-lived series, Fair Exchange.
She died in May 2004 from cancer at the Motion Picture Home in Woodland Hill, California.
Filmography
Edit
Notable TV Guest Appearances
Edit
External Links
Edit
Ad blocker interference detected!
Wikia is a free-to-use site that makes money from advertising. We have a modified experience for viewers using ad blockers

Wikia is not accessible if you've made further modifications. Remove the custom ad blocker rule(s) and the page will load as expected.