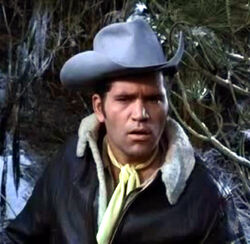 Bruce Yarnell (December 28, 1935 – November 30, 1973) was an American actor who appeared in several films and Television shows in the 1960s, including an appearance as Capt. Jeb Winslow in an episode of the 1960s sitcom, Hogan's Heroes, as well as playing Little John in the television series, The Legend of Robin Hood.
Yarnell was born in Los Angeles, California. Besides acting, he also sang baritone for the San Francisco Opera from 1971 until his death in an airplane crash in 1973. His widow, Joan Patenaude Yarnell, who was a singer/voice teacher, created the Bruce Yarnell Scholarship in his name, to award young baritones.
Filmography
Edit
Notable Guest Star Appearances
Edit
External links
Edit
Ad blocker interference detected!
Wikia is a free-to-use site that makes money from advertising. We have a modified experience for viewers using ad blockers

Wikia is not accessible if you've made further modifications. Remove the custom ad blocker rule(s) and the page will load as expected.