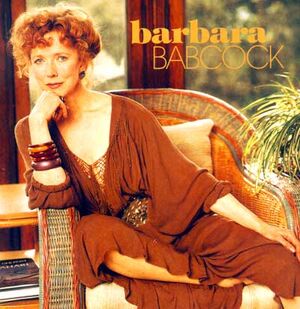 Barbara Babcock (born February 27, 1937 in Pasadena, California) is an American actress, who, while born in the U.S., spent most of her childhood growing up in Tokyo, Japan, as her father, Conrad Stanton Babcock, a General in the U.S. Army, served there. Because of this, she would learn Japanese before she learned English. She would later attend Miss Porter's School and later Wellesley College.
Starting in the early 1960s, she would appear in a number of films and television shows, receiving an Emmy Award in 1981 for "Outstanding Lead Actress in a Drama Series" in Hill Street Blues and was later nominated for a second Emmy in 1993 for "Outstanding Supporting Actress for a Drama Series' in Dr. Quinn, Medicine Woman. Her other television credits includes, The Lucy Show, Family Affair, The Sixth Sense, Mannix, The Streets of San Francisco, Logan's Run, Taxi, Cheers, Crazy Like a Fox, Empty Nest, Murder, She Wrote, Chicago Hope and Judging Amy, as well as appearing in three episodes of the 1960s sitcom, Hogan's Heroes. She has also appeared in such films as Bang the Drum Slowly, The Black Marble, The Lords of Discipline, Far and Away and Home Alone 4.
Filmography
Edit
Notable TV Guest Appearances
Edit
External links
Edit
Ad blocker interference detected!
Wikia is a free-to-use site that makes money from advertising. We have a modified experience for viewers using ad blockers

Wikia is not accessible if you've made further modifications. Remove the custom ad blocker rule(s) and the page will load as expected.